Avelino Veá is therefore offering a strictly limited edition product which will be presented in hand-crafted glass 'taberna' decanters, of the kind used throughout Spain during Columbus' lifetime. Each decanter comes complete with a glass stopper, and is decorated with specially designed labels.
Every case, and every decanter, will be numbered. Each case contains six decanters, packed in individual gift boxes produced in Spain using Galician pine - a magnificent and unusual presentation fully worthy to celebrate the historic voyage of Christopher Columbus from Spain to America 500 years ago.


The extra-virgin olive oil itself is of outstanding quality, color and flavor - perfect in extra-special salad dressings and in recipe dishes which depend on the authentic flavor and qualities of first-class, extra-virgin olive oil for their essential character.
Columbus's three ships - the Flagship Santa Maria; the 'Pinta' and the 'Niña' made up the first recorded European expedition to cross the Atlantic Ocean in warm or temperate latitudes. The expedition was financed by King Ferdinand and Queen Isabella of Spain, and by Luis de Santángel, keeper of the Royal Exchequer, who was largely instrumental in securing the support of the Spanish monarchs.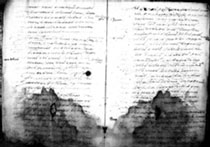 The King and Queen paid Columbus' crews and provided his ships, no doubt stocking them with abundant supplies of olive oil - much of it, possibly, from the very same trees that have yielded this special bottling by L'Estornell.